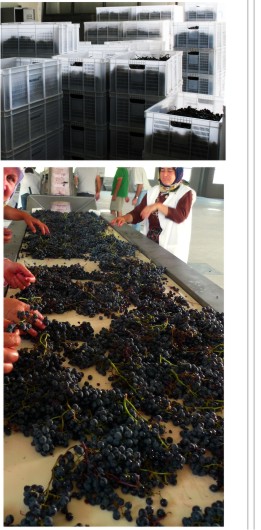 Established in 2009, the modern style winery boasts 5200 square meters and houses a facility of traditional olive oil mill for producing extra virgin olive oil as well as processing olive and natural agricultural products. The determination to achieve consistent success as a winery is based on the painstaking approach taken in the vineyards. The winery is only 3 to14 km far from vineyards, which plays a crucial role to make possible to obtain ultimate quality chateu style wines. Suvla winemakers team and cellarpersons follow up the hard work done in the vineyards by adapting an equally attitude in the cellars. Focusing on quality, working with leaders in all equipments and with latest technologies, winery processes incorporating state-of-the art technology and knowhow.
After harvest, the grapes are held in cool rooms for a short period of time before being processed. With 850.000 bottling capacity Suvla winery layout is configured to process the grapes with gravity. Temperature controlled feature state-of-the art fermentation equipment ensure precise control of the must as well as modern maturation vessels ensure optimum aging. Cooling system and cool rooms enable to retain the aromas and preserve the sugar levels. Stabilization infrastructure helps the winemakers to preserve intense color and the primarily aromas coming from the grapes. Selected wines are aged in French oak barrels for premium labels.
Winery processed 260 tons of grape in 2010, 350 tons in 2011, 450 tons in 2012 yılında and 360 tons 2013.
Suvla Wines have young premium, premium and ultra premium labels to satisfy different tastes. Around 30 labels of whites, roses and reds are made by our winemaking team of oenologues Dimitar Dimov, Eda Acılıoglu and Michael Kaben with very precious consultancies of French oenologues Jacques Antoine Toublanc and Francis Poirel.
Suvla Winery strives to improve the viticulture in the region and build up comprehensive valuable alliances with the neighbouring vinyards.
.